Back to Blogs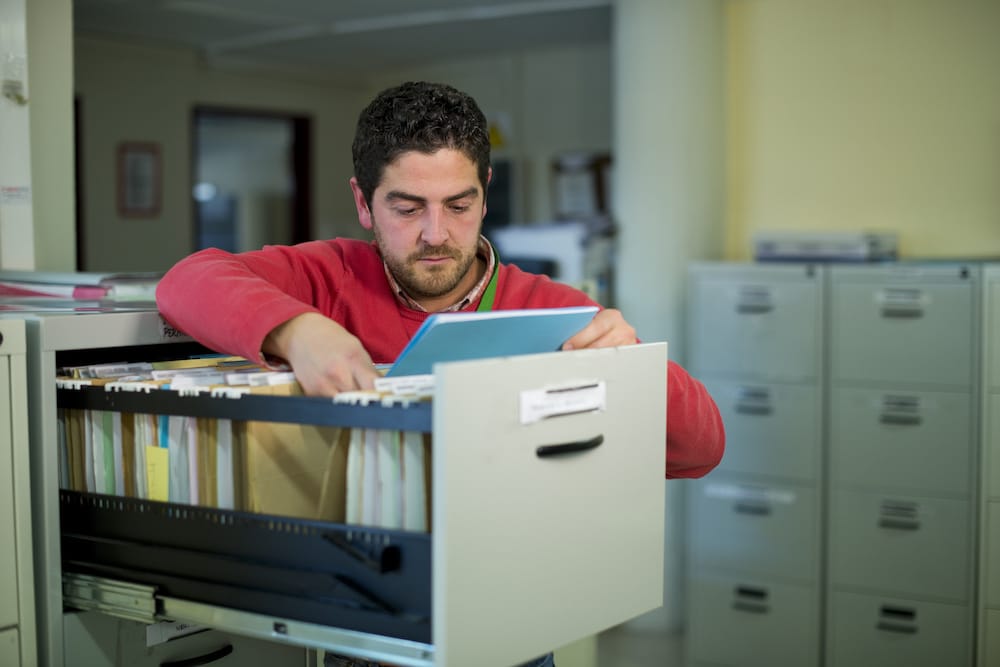 What is Clerical Work?
March 14, 2022 | Career Blog
If you're looking for an accessible entry-level job with excellent advancement opportunities, clerical work may be the answer. Also known as administrative assistants, secretaries, and office clerks, clerical workers handle the day-to-day tasks that keep offices running.
Nearly all industries need clerical workers, so positions are readily available for companies near you. Clerical work is also a terrific first step toward a long, successful career.
Clerical Positions: The Basics
So, what is clerical work? Clerical jobs typically involve handling basic office duties like answering phone calls, sorting and filing documents, scheduling appointments, and maintaining office records. Specific job duties vary by employer, so you will encounter various clerical job descriptions when you start looking for this type of work.
Most clerical jobs are full-time positions. Since clerical jobs are usually entry-level positions, a high school diploma or equivalent is all that's usually required to get started.
What Skills Are Needed for Clerical Jobs?
Although clerical jobs are entry-level positions, it helps to possess specific skills to qualify for the best job opportunities. Examples of clerical skills that will come in handy when seeking such job opportunities include the following:
Customer service skills
Communication skills
Excellent reading comprehension
Organizational skills
Time management skills
Familiarity with essential office equipment
Computer skills
Critical thinking and problem-solving skills
Deductive reasoning
Attention to details
Qualifications Needed for Common Clerical Positions
Many people start their professional careers as office clerks because such positions require very few qualifications. Employers understand that these are entry-level jobs and are usually open to hiring the right candidate even if they have little to no job experience.
The main thing that clerical positions require is basic education. Therefore, you'll need a high school diploma, GED, or equivalent educational qualification to qualify for this entry-level job. If you have a college degree, you may be eligible for positions with greater advancement opportunities.
Typical Work Environments for Clerical Workers
Clerical workers typically work in offices. Some office clerks work in cubicles while others work at reception desks, where they greet visitors and direct them where to go.
Many industries rely on office clerks – including healthcare facilities, government agencies, and schools – to help staff members stay organized and provide quality services to patients, customers, and students.
Daily Clerical Duties of Office Clerks
Clerical positions are highly individualized and vary considerably from one employer to another. Generally speaking, though, these workers handle a variety of office duties, including the following:
Typing and word processing
Sorting and filing
Record-keeping
Minor bookkeeping if qualified
Answering and routing phone calls
Data entry
Photocopying and collating
Appointment scheduling
Receiving customers and visitors
Sorting and delivering incoming mail and sending outgoing mail
Preparing and processing bills and other documents
Average Salary for Clerical Workers in the U.S.
According to the U.S. Bureau of Labor Statistics (BLS), general office clerks (e.g., clerical workers) earn a median salary of $35,330, which is equivalent to a rate of $16.98 per hour.
There are roughly 3 million clerical positions available across the U.S., making this a high-demand job. This is especially true when considering changes to the current workforce. BLS says they expect to see an increase in job openings to replace workers that will "transfer to other occupations or exit the labor force, such as to retire."
What Training is Involved to Become a Clerical Worker?
Training to become a clerical worker is generally straightforward. In most cases, new employees can get up and running with their position within two to four weeks. During training, newly hired office clerks will receive training on office procedures, office equipment, general phone etiquette, and other duties.
Similar Occupations & Advancement Opportunities
By gaining clerical work experience, you may quickly qualify for a variety of similar positions, including the following:
Receptionist
Human resources specialist
Data entry clerk
Then, after gaining additional experience in these roles, you may qualify for various advancement opportunities. For instance, many office clerks eventually become executive secretaries, compensation and benefits managers, and office managers.
Advancement opportunities also vary by industry. For example, if you start as an office clerk for a property management company, you may find yourself in the right spot to advance to a managerial position over time.
Interested in Clerical Jobs? Allegiance Staffing Can Help
If you'd like to enter the workforce through an entry-level clerical job, applying for a temporary job through Allegiance Staffing is a great way to go. We'll help you quickly find a job in your area to help you get the ball rolling on a successful career.
You can get started right now by checking our Jobs Board to find clerical jobs in your area. You can also contact our helpful team today to learn more about clerical work and inquire about available jobs in your area. Let's get started!